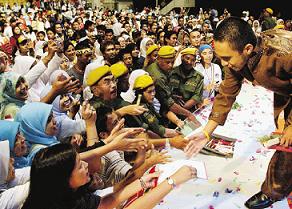 Malaysian especially the Malays and Bumiputera in Sabah and Sarawak were at home or neighbours'/relatives' home to watch Akademi Fantasia. It's the most glorious night of all nights because what was predicted earlier by many has become a reality. A big win for MAWI! It was a fantastic winning for the Best Vocal, the Best Performance and the winner of all like never before seen in the Malaysian music industry.

Well I think most Malaysian who had watched Mawi on Saturday night would agree that he deserved to win. He has done a fantastic job and has shown a real effort to improve himself in many aspects of becoming a good singer and performer. This phenomenon will not be seen often in our music industry because all this while it has been dominated by Siti Nurhaliza. I am glad that we have finally found a new male singer as good as him to balance the big flow of female singers nowadays.

A big applause to Astro as well for using the great occasion on Saturday night to deliver the anti drugs campaign slogan in line with the government concern. This has shown that Astro is aware of the important role it plays in influencing the viewers especially the youngsters. I like it when they asked Mawi to read the message from the Deputy Prime Minister, Y. Bhg. Datuk Seri Najib Tun Razak, and hails the anti drugs slogan, i.e. "Belia Benci Dadah!" (translated to 'Youngsters Hate Drugs!' or simply 'We Hate Drugs!'). It's very commendable. Well done to Astro.

I know some of you out there just hate it whenever I write about Akademi Fantasia, like I don't have anything of great value to write. Well I just don't care, because I know who I am. I am supporting the local musical industry so that more Malaysian will too.

I hope one day we will appreciate our local talents more than relying so much on the western cultures. This is the first time in my life that I ever like a Malay singer like this. I think it's a good start for me and why not spread it to others too.

This is Liza, signing off :)
"BELIA BENCI DADAH.... World!"