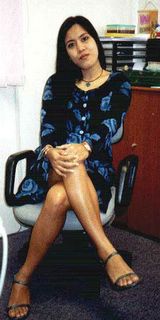 Stop acting like a girl, grow up and be a woman. Stop being too nice; it could jeopardise your own career. Learn something from here:
"If you work non-stop without a break … worry about offending others and back down easily… explain too much when asked for information… or "poll" your friends and colleagues before making a decision, chances are you have been bypassed for promotions and ignored when you expressed your ideas. Although you may not be aware of it, girlish behaviours such as these are sabotaging your career".

Lois P. Frankel, Ph.D., "Nice Girls Don't Get the Corner Office – 101 unconscious Mistakes Women Make That Sabotage Their Careers".

I read this book recently and found it very useful to all career women out there. I admit that I too have done a lot of mistakes in the past which have caused me to back down easily from the battle or even let the situation control my decision at work. Dr. Frankel segmented the 101 mistakes into six areas for easy understanding. Among it all, here are the mistakes that I often did:

a. How you play the game:
1. Doing the Work of Others
2. Avoiding office politics
3. Being the conscience
4. Protecting jerk

b. How you act:
1. Telling the whole truth and nothing but the truth (So Help You God)

c. How you think:
1. Making miracles (doing the impossible too often)
2. Taking full responsibility
3. Using only your first nickname or first name
4. Giving away your ideas

d. How you sound:
1. Using qualifiers such as It's kind of like…, Perhaps we should… etc.)
2. Not answering the question

e. How you look:
No mistake in this area :)

f. How you respond:
1. Believing others know more than you
2. Tolerating inappropriate behaviour
3. Putting the needs of others before your own
4. Permitting others' mistake to inconvenience you

There you go, among the 101 mistakes stated in the book, I've scored 15, about 15% of 101. Not so bad, ha. The mistakes I've done most are in the areas of how I play the game, how I think and how I respond.

Dr. Frankel states that there is still gender bias exists in the workplace which I agree 100% (I have faced this situation many times, the reason why I never got promoted). She explains further that women still earn only 72% of the salaries earn by their counterparts, must work twice as hard to be considered half as good as their male colleagues, and are more likely to be overlooked for promotions to senior levels of an organisation.

If you read the book further, you would learn other skills to arm yourself from doing mistakes that will cause you stagnation or damage to your career in the future. I think it will help a lot.



So go girls (hmm... women) get the book now!